Production up to 6000 BPH - mod. XR SU 6P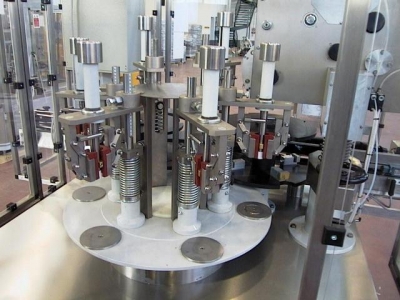 The range of Eticap cold glue sealers meets the most different needs.
XR/SU 6P range of linear machine is characterized by a simple use and versatility. This kind of machine can apply U- or L- shaped seal on different bottle or container, with a speed production of 6000 bph.
All movements are mechanically operated, which guarantees precision, solidity and long life to the whole equipment.

The standard possible applications are:
- U-shaped seal
- L-shaped seal

Packaging of cylindrical and square bottles, made of glass or PET.
Options:
- label end alarm
- anti-dust cover
- over flow photocell
- production counter
- automatic pincers roller washing
- glue pump
- automatic carrousel height regulation
- heater
Additional Info
TYPE:

Sigillatrici

MAX SPEED:

6000 b/h

PLATES / HEADS:

6

CONTAINERS SELECTION:

Coclea

PLATES ROTATION:

-

MAX NUMBER OF STATIONS:

1C

SPEED GEARS:

Inverter

SERIE'S EQUIPMENT:

Cancelletto di pre-selezione
Regolazione velocità in base al flusso
Rasicolla automatici

SPACES IN STAR:

4

PRIMITIVE DIAMETER:

600 mm

MAX LABEL LENGHT:

50 mm

MAX LABEL HEIGHT:

200 mm

CONTAINERS DIAMETER:

50-120 mm

CONTAINER HEIGHT:

380 mm

MACHINE DIMENSIONS:

3000x1540 mm

CASE DIMENSIONS:

3250x1800 mm

GROSS WEIGHT:

1400 Kg

VOLTAGE:

380V 60Hz

ELECTRICAL CONSUMPTION:

1,62Kw

OTHER:

n.b.: le misure di lunghezza sono espresse in [mm] e quelle di peso in [kg] Tutti i dati ed i disegni sono puramente indicativi e non impegnativi per la Eticap System