Adhesive stations - mod. AR Bi-adhesive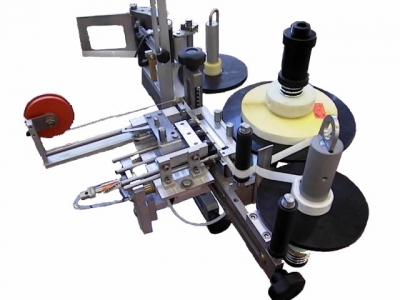 Labelling station to apply paper seal with bi-adhesive,suitable on every kind of labelling machine, linear or rotary, cold glue or self adhesive
Labelling station with step by step motor driver, with roller holding plate Ø 300 mm and speed distribution 60 meters/minute.
Labelling station adjustable in height, in depth and in inclination.
This labelling station allows to apply seal in paper without glue but with the use of a bi-adhesive roll.
This method is very useful, overall to avoid the problem of the glue and of the cleaning.
The labelling station is composed with a label box where seals are placed, with a label roll holder plate where the bi-adhesive roll is placed and two separated label roll collector plates, one for the bi-adhesive roll with seal applied and one for the paper of discard of the roll.
The seal store is placed on a flowing system commanded by a pneumatic piston that, after photocell signal, attach seals on bi-adhesive strips. So, the labelling station can distribute seals as a normal self-adhesive station.