Adhesive station - mod. AR Plus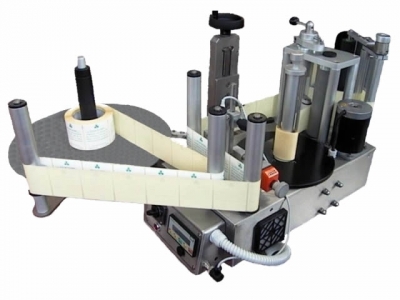 New design adhesive station.
- Step by step adhesive station
- Max distribution capacity 100 m/minute
- Roll holding plate Ø 400
- Label roll break safety
- Photocell for label roll break safety
- Visual and acoustic alarm for label roll end
- High reliability electrical card with personalized program.
Usually these labelling stations are installed for high speed production, so they allow the memorization of different label sizes and the automatic synchronization with labelling machine speed.
New stronger supports for labelling station adjustment on four axes.
Labelling station managed by PLC and display centralized on the electric panel of the machine.
Labelling station suitable to the installation on each kind of machine, also produced from others Companies, or supplied installed on a support at earth, to be placed at side of an existing conveyor belt.
On this kind of labelling station is possible to install equipments for:
- detection of transparent and metalized labels
- motorized roll holding plate
- motorized collecting plate
- automatic axes
For more autonomy, it is possible to have an unwinding device composed by two roll holding plates.