Production up to 5000 BPH - mod. MO 8T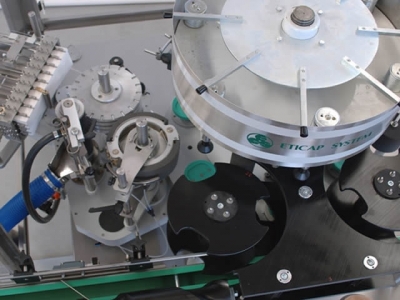 When reaching throughputs over 4000 pcs/h, the rotary cold glue labelling machine form the MO and PF ranger featuring
labelling stations with gearbox in oil bath and possibilità of regulation of the advance/delay of the label with the machine running.
MO 8T range, characterized by an oscillating movement, reaches a throughput of 6000 b/h and allows applying wrap-around
labels with total gluing.
The standard possible applications are:
- Body label, partial or wraparound
- Partial shoulder label
- Wraparound neck label, D.O.C.G
- Big wraparound neck label for Champagne
- Back label
- "tirilla" (second backlabel)
- L- or U- shaped seal
Packaging of cylindrical and square bottles, made of glass or PET, also with lateral notch or notch at the bottom for mechanical centring device or relief on the glass for optical centring device
Options:
- label end alarm
- Printer with needles and rotary drum
- anti-dust cover
- over flow photocell
- production counter
- automatic pincers roller washing
- automatic heads washing
- heater
- automatic carrousel height regulation
- mechanical centring device on enter star or on plates
- optical centring device

Possibility to add self-adhesive labelling stations
Additional Info
TYPE:

Colla

MAX SPEED:

6000 b/h

PLATES / HEADS:

8

CONTAINERS SELECTION:

Coclea

PLATES ROTATION:

Camma

MAX NUMBER OF STATIONS:

3C

SPEED GEARS:

Inverter

SERIE'S EQUIPMENT:

Cancelletto di pre-selezione
Pompe colla
Regolazione velocità in base al flusso
Rasicolla automatici
Lisciatore supplementare

SPACES IN STAR:

3

PRIMITIVE DIAMETER:

800 mm

MAX LABEL LENGHT:

180 mm

MAX LABEL HEIGHT:

n.d.

CONTAINERS DIAMETER:

50-120mm

CONTAINER HEIGHT:

380 mm

MACHINE DIMENSIONS:

3000x2350 mm

CASE DIMENSIONS:

3250x2400 mm

GROSS WEIGHT:

2800 kg

VOLTAGE:

380V 60Hz

ELECTRICAL CONSUMPTION:

4,05Kw

OTHER:

n.b.: le misure di lunghezza sono espresse in [mm] e quelle di peso in [kg] Tutti i dati ed i disegni sono puramente indicativi e non impegnativi per la Eticap System