Production up to 2000 BPH - mod. ARF 4T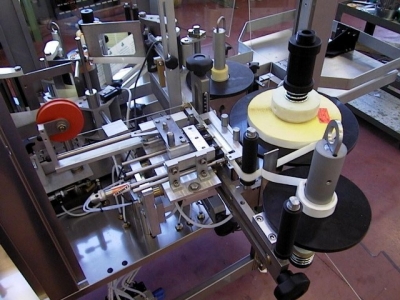 The economical series of the Eticap labelling systems is manufactured with the same guidelines of liability and efficiency characterizing the high standard products.
The machines of the range ARF 4T, with self-adhesive system, guarantee a speed production from 1000 to 2000 b/h.
In comparison with the model ARF 3T, with same speed production, this machine has a bigger carrousel that allows the installation of an higher number of labelling stations.
All movements are mechanically operated, which guarantees precision, solidity and long life to the whole equipment.
The standard possible applications are:
- Body label
- backlabel
- wraparound neck label, in adhesive or bi-adhesive system
Packaging of cylindrical and formed bottles, made of glass or PET, also with lateral notch or notch at the bottom for centring device.

Options:
- Label end alarm
- Plates rotation through oil bath cam
- Selection gate
- Hot foil printer
- Production counter
- Anti-dust cover
- Over-flow device
- inverter
- roller holding plate of Ø 400 mm
- automatic synchronization
- automatic carrousel adjustment
- mechanical centring device on enter star or on plates
- capsules dispenser
- mechanical group with thermal or rolling head
Additional Info
TYPE:

Adesiva

MAX SPEED:

2000 b/h

PLATES / HEADS:

4

CONTAINERS SELECTION:

Coclea

PLATES ROTATION:

Croce di malta

MAX NUMBER OF STATIONS:

4

SPEED GEARS:

Inverter

SERIE'S EQUIPMENT:

-

SPACES IN STAR:

2

PRIMITIVE DIAMETER:

480 mm

MAX LABEL LENGHT:

325 mm

MAX LABEL HEIGHT:

200 mm

CONTAINERS DIAMETER:

50-120 mm

CONTAINER HEIGHT:

380 mm

MACHINE DIMENSIONS:

2500x1900 mm

CASE DIMENSIONS:

2750x2150 mm

GROSS WEIGHT:

1250 kg

VOLTAGE:

380V 60Hz

ELECTRICAL CONSUMPTION:

3,31Kw

OTHER:

n.b.: le misure di lunghezza sono espresse in [mm] e quelle di peso in [kg] Tutti i dati ed i disegni sono puramente indicativi e non impegnativi per la Eticap System