Production up to 2000 BPH - mod. LE207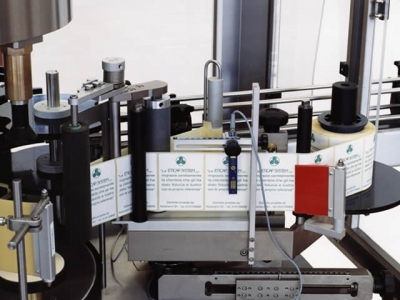 The economical series of the Eticap labelling systems is manufactured with the same guidelines of liability and efficiency characterizing the high standard products.
The machines of the range LE2/07 are part of this serie and, as the others linear self-adhesive machines, they guarantee the simplest use at any speed at affordable prices.
All automatic adjustments for labels, bottles and speed variation made through a PLC display on the control board.
The speed production of machines LE2/07 is 2000 bph.
The standard possible applications are::
- partial body label
- backlabel

Packaging of glass square bottles

Options:
- label end alarm
- Hot foil printer
- anti-dust cover
- over flow photocell
- inverter
- wheels
- capsules dispenser
- mechanical group with thermal or rolling head
Additional Info
TYPE:

Adesiva

MAX SPEED:

2000 b/h

PLATES / HEADS:

-

CONTAINERS SELECTION:

Cancello

PLATES ROTATION:

-

MAX NUMBER OF STATIONS:

2

SPEED GEARS:

PLC

SERIE'S EQUIPMENT:

-

SPACES IN STAR:

-

PRIMITIVE DIAMETER:

-

MAX LABEL LENGHT:

n.d.

MAX LABEL HEIGHT:

150 mm

CONTAINERS DIAMETER:

50-120 mm

CONTAINER HEIGHT:

380 mm

MACHINE DIMENSIONS:

2500X980 mm

CASE DIMENSIONS:

2750x1250 mm

GROSS WEIGHT:

800 kg

VOLTAGE:

380V 60Hz

ELECTRICAL CONSUMPTION:

1,65Kw

OTHER:

n.b.: le misure di lunghezza sono espresse in [mm] e quelle di peso in [kg] Tutti i dati ed i disegni sono puramente indicativi e non impegnativi per la Eticap System